August 02, 2023
Mini Iwai is September 3rd..2023! Last day before weekend badge price goes up! $10 (+tax) at the door or free if you purchase, or have purchased, your weekend pass for Anime Iwai Horizons!
Anime Iwai: Horizons- November 10-12 2023
July 09, 2023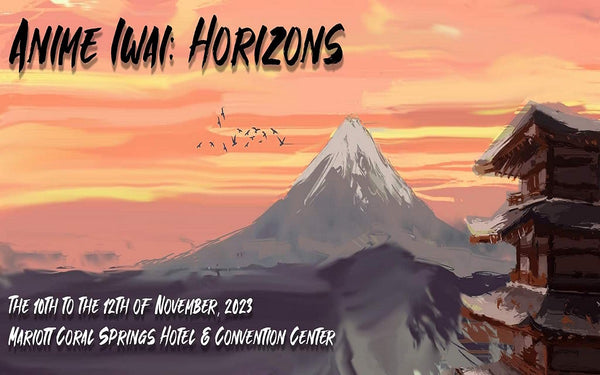 Anime Iwai Horizons is absolutely a go for 3 full days this November. November 10th-12th 2023 to be exact! We've go the ball rolling already for exciting things coming up. Did you know Our Special Guests Sarah Wiedenheft and Aaron Dismuke are already lined up for this year? We announced Sarah just before...
Introducing Anime Iwai: Horizons
September 29, 2022
Hello Iwai-jin! As you might have noticed, Anime Iwai has not scheduled our usual three day hotel convention in 2022. This is because our former home hotel, the Ft Lauderdale Marriott North, cannot host us as planned- more on that in a minute. The exciting news is that our next full weekend con will be held on Veteran's Day Weekend, 2023. We are expecting to host a Mini Iwai next summer, date to be determined 3 months prior as usual. In the meantime, to introduce our new home hotel to you, we will be holding a one day show we...